Jesus-shaped Church
(Mission and discipleship versus survivalism)
Forum was first conceived in 1948 when the Congregational Church began to make arrangements for its birth so 2018 was a celebratory year. (The initial Planning Group first met in 1948 although the first Forum wasn't till 1950.) This year also coincided with it being 25 years since the United Reformed Church decided that Forum was no longer viable and closed it down, whereupon a number of attendees who refused to let it die set up a Steering Group and Forum lived again!!
The celebratory service was led on the Sunday afternoon by Rev David Legge, a former chair of the Steering Group, who reminded us of how Forum has evolved from a conference into a family holiday and how we need to continue to adapt and develop to preserve its future. This was an all age gathering that was based on the amazing metamorphosis of a caterpillar into a butterfly.
During the week there were home grown activities for all ages including a Ceilidh led by Rev Alastair Smeaton (in tartan trousers) and friends – some even did the hornpipe! Tour de Forum (racing model bikes – previously made in a craft session – across the hall floor – see picture), Forum's Got Talent (even Lawrence took part leading a rousing rendition of The Court of King Caractacus! – see picture) and sports including Cricket, Boules, Table Tennis, Scrabble and Yahtzee.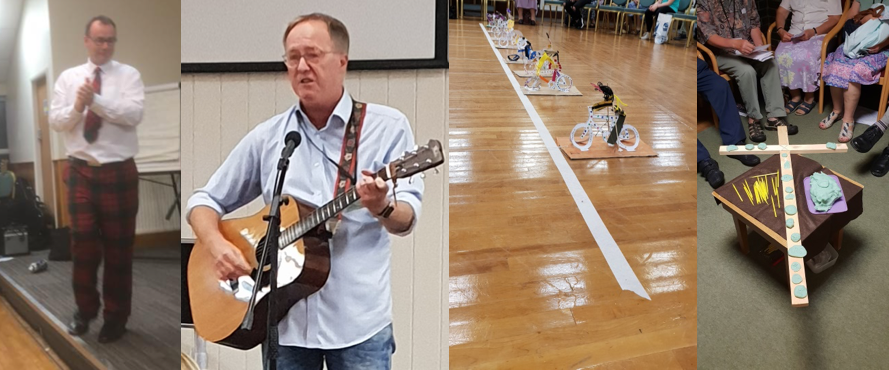 For those wanting a more relaxing time there was morning prayers, evening meditations (see photo), a needlework group, as much free time as you want to take and an outing to Cromford Mill.
Worship was provided by a different leader each day giving a wide variety of worship styles all of which were well received. Each leader had connections with Forum having been a regular attendee or past leader. These included Rev Kay Alberg, Rev Dave Fraser, Rev Iain McLaren, Rev Jenny Mills and Rev John Steele.
The music of all types was ably led by Cathryn Rogers for the second time. Cathryn has grown up attending Forum each year. She was well supported in leading the choir by her fiancé Colum O'Shea – it's amazing what can be put together in such a short time.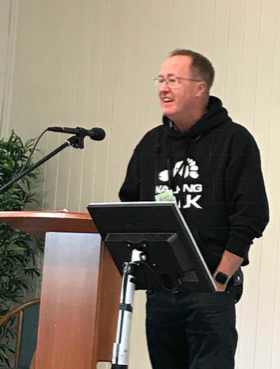 The Theme for the week was led by Lawrence Moore. He reminded us that Jesus has lost none of his chic or credibility and that the church that claims his name, by contrast, is viewed actively as Bad News. Churches would be overflowing and among the most widely respected and valued institutions in society if they were recognisably like Jesus. We need to stop and think about it… isn't it strange that we don't define churches as 'communities of people that act like Jesus'? If people looked at Jesus and saw what God was like, surely it should be the case that people look at churches and individual Christians to see what Jesus is like? Something went badly wrong somewhere in Christian history, and if we're going to be faithful disciples of Jesus, making a Jesus-shaped difference in our communities and being part of the Good News we proclaim, we need to start following Jesus more closely and more faithfully. And that means letting go of our obsessions with survival and success, and rediscovering what discipleship and mission are all about instead. Jesus called it, 'denying ourselves, taking up our cross and following… losing our lives in order to find them!' It's risky and it's scary, but it's also about being where Jesus is, and there's no other way to find life in all its fullness! And we were all challenged as to whether we are up for that journey.
During the theme and workshop sessions the children's groups enjoyed exploring the theme in a variety of ways led by a dedicated team of leaders.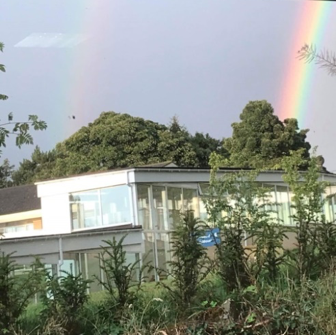 The week concluded with the Communion Service led by Rev Dave Fraser and Lawrence Moore during which the photo (left) was taken, that it really summed up the week.
What a fantastic week! Certainly this report isn't totally comprehensive – but it's so hard to pack the content and essence of the whole week into a short report. However, the good news is that Forum will be back to do it all again next year with the intriguing theme of A story waiting to be told led by Rev Richard Becher! (See below.)
So… are YOU willing to give it a try? It's certainly an addictive experience!
URC HOLIDAY FORUM 2019
Saturday 17 to Friday 23 August 2019
A story waiting to be told
Theme Leader – Rev Richard Becher
Worship Leaders – Rev Iain McLaren and Steven Neville
Music Leader – Marion Turner (and friends)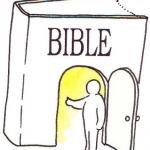 We can't change history but there are many untold stories which can change the future through how history is remembered. Telling the story is what Jesus did do well and new stories can be told through fiction and non-fiction; gospel and testimony; song and poetry etc…
A CHRISTIAN HOLIDAY FOR ALL AGES AT
THE HAYES CONFERENCE CENTRE, SWANWICK, DERBYSHIRE
A fantastic mix of the three F's – Fun, Faith and Fellowship – in the beautiful surroundings of the Hayes Conference Centre
Contact chair@urcholidayforum.org.uk for further information
Quote from a Forum attendee – The uniqueness of Holiday Forum is its ability to be inclusive. It unites all people as a family and treats all individuals as human beings.
Quote from a first time attendee – It was great to walk into such a welcoming atmosphere and meet such friendly people, can't wait till next year.